Clare's routine: 
So when I was younger I used to have very curly hair, sadly I don't have curls anymore, but my hair type/texture is very similar to curly hair. It essentially has a slight wave but can be a little bit frizzy at times. Anyway, here's what I do with my hair:
For almost 2 years I didn't use shampoo in my hair, (Don't be grossed out I still washed my hair properly. See next step 😉 )
So what did I use instead of shampoo? Well at first when I heard about this I was somewhat apprehensive, but I used Bicarb Soda (or Baking Soda) instead! (and still do every 2nd wash or so) All you need to do is measure out 1 tablespoon of Bicarb into a cup (or something you can use in the shower) and then pour in about 1/3 of boiling water, stir it until most of the Bicarb has dissolved and then fill up the rest of the cup (no more than an actual cup measurement of water) until it's lukewarm. Apply to hair in the shower and rinse. Condition as usual. It's amazing!
I either use Modere conditioner which is on the slightly more expensive side, but it's totally worth it!                                                                                             Or I use a condition by Sukin, which also works great, the thing you should remember about this one is to rinse out about 90% of the conditioner, opposed to the Modere which works fine if you only rinse about 75-80%) : 
But now that I've been off shampoo for a while, every 2nd wash or so I'll substitute shampoo for the Bicarb, but I only use a small amount, and just on my scalp. just squirt a small amount onto your palm and then I actually rub my hands together first to get a small lather before applying it to my hair, that way it causes less friction (which equals less frizz) 😉 . There is absolutely no need to shampoo twice! 🙂 This is the shampoo I use:                    
 It has healthy organic type ingredients and is only a couple of dollars! Though I don't think I'll ever stop using the Bicarb altogether! 😀 You can also get Modere shampoo, and it's amazing too!
I wash my hair generally twice, sometimes three times a week, if it needs it, you don't have to wash your hair every day to keep it clean 😉
I also only use a wide tooth comb or my bamboo brush to get the knots out in the shower. After I've washed my hair, I usually apply some argan oil (if I have some 😉 ) to the bottom half of my hair, this helps the ends to stay hydrated.
I try to let my hair air-dry when possible. Scrunch or squeeze drying the excess moisture from my hair with a towel (microfiber towels are best for your hair, or an old cotton t-shirt.)  Never rub a towel up and down your wet hair, this cause a lot of friction and damage. If I need to go out, and my hair is still wet, I'll use my blow-dryer on low until it's at least 85% dry.
______________________________________________________
Emma's routine:
My hair was also super curly when I was younger, but now that it's straighter, it's still relatively thick and textured, but almost always dry and frizzy.  After donating it in early 2015, I have been exploring TONS of ways to grow it out fast. (More on that in a later post!)  Here is my regular routine, along with all the things I've learned to control dryness and frizz.
I can usually go about 3-4 days without washing my hair.  I really just use whatever shampoo is around my house.  I confess, most of them are generally not the most harmless products out there, but, until I find a good, natural shampoo-conditioner duo, I have learned some tricks to compensate.
As for washing my hair, I apply a small amount of shampoo, working it only into my scalp.  Then, I hold the rest of my hair over my head and rinse just my scalp.  The mids and ends of your hair do NOT need regular shampooing, so doing this prevents unnecessary surfactants from being pulled through my hair, which would strip it of its natural oils/nutrients.  Balancing out your hair's oil production is key!  After shampooing, I apply conditioner only on my mids/ends, which I rinse out with cool water.  Using cool water closes the hair follicles, and I promise, you will notice a BIG difference in the smoothness of your hair!
Oils. I LOVE using oils on my hair.  Out of the shower, I wait until my hair is roughly 80% dry (my hair takes 3+ hours to dry) and then apply a nickel-sized amount of oil (usually coconut or argan) through the bottom third of my hair.  I also use a small amount of oil on my ends daily, which helps keep them from splitting. 
Drying.  Air drying is always best, though I also use a cotton t-shirt to gently rub my hair dry.  It creates less friction than a towel, making for smoother hair.
The night before I plan to wash my hair, I always do some sort of oil treatment.  Generally, I will massage my scalp with coconut oil, and then let it soak in overnight.  Not only has this promoted healthy growth in my hair, but the oil has completely gotten rid of my dandruff problems as well.  In the morning, I wash it out as normal, but with a little more effort to make sure all the oil is thoroughly rinsed out.
I am blessed with hair that never, ever tangles, so I rarely give my whole head a good brushing, it only aggravates the frizziness.  Instead, I will gently comb through my scalp and/or ends each morning.  However, I do like to flip my head forward and brush my scalp upside-down each night.  I do this to distribute the oils in my scalp and to stimulate the hair follicles.  This bamboo-bristle brush does an excellent job of massaging my scalp.  It feels amazing, too!
Protecting your hair while you sleep is a must.  I like to either braid it, or coil it into a bun on top of my head, secured with a big clip, before hitting the sack.
______________________________________________________
Emily's routine:
Hello there all you lovely readers!  So, as a first little post for you all, I've gotten together this little intro on what I do to my hair to keep it healthy and voluminous!  😉  So, here we go!
1.  Of a first, I wash my hair every other night.  And, what I use to wash my hair is…
2.  Shampoo-wise: Head and Shoulders dandruff-free Volume Boost shampoo.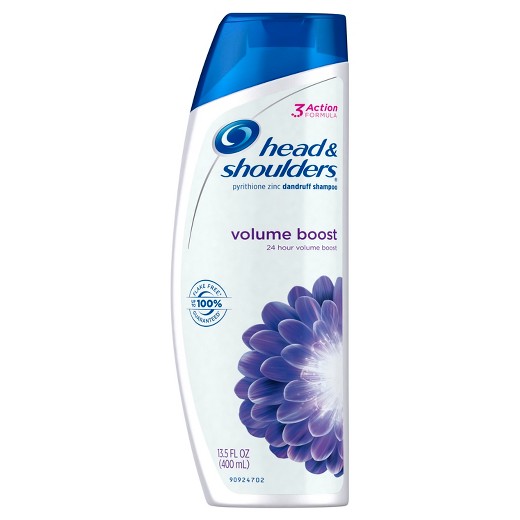 I kid you not, this shampoo does wonders!  I love it, and always will!  Now, I know lots of you don't have the problems that I do with dandruff, but for those of you who do: I totally recommend checking this stuff out!  It's one of the cheapest dandruff-free shampoos out there (which is awesome!), and it can be found at most stores.  Plus, it really does help, I promise!  Totally worth it!
3.  Conditioner-wise: Clear (brand).
One of my all-time favorites for conditioner!  Now, I don't know about y'all, but I don't actually need dandruff-free conditioner as well.  So, when it comes to hair conditioner, for me, it doesn't take very much to find any of them good enough.  But, this brand has become one of my favorites to use.  I came to realize that my scalp was not taking most conditioners and shampoos very well.  I have a fairly sensitive scalp, and so I have to be careful of which hair products I use.  So, after trying many of those out there, I came to realize that the "Clear" brand helped the best!  (And, as a side note: the best one for me was the one made of Cactus Extract.)
4. After washing my hair, I use Nexxus Mousse + Volumizing Foam. 
This stuff is amazing, and I absolutely love it!
5. Afterwards, I blow dry my hair to better style my hair (what with it being short).
6. As a last, to keep my hair nice and healthy, I try to get semi-frequent hair trims(in other words, every couple of months).
And, that's about it!  I hope I didn't bore you all too much, and I hope that you may find these little ways simple enough to give it a go.  😉  Have a lovely rest of the week!
______________________________________________
And there you have it! Clare, Emma, Emily, & Sophia's haircare routines!
Questions? Comment below!
Also, let us know which tips you liked and which ones you want to try, as well as some of your own favorite tips to share with everyone!